Curtis Center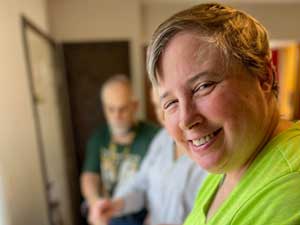 Curtis Center, located in West Allis, is a community-based and person-centered program dedicated to enhancing the quality of life of the individuals we serve at Adult Day Services of Southeast Wisconsin, LLC. At this location, we have a strong focus on different types of enrichment activities that ultimately help our participants reach their personal goals.
We offer educational and historical-themed activities, as well as trips for fun that provide ample time for social interaction with one another. Additionally, this center features arts, crafts, a music program, board games, book club, Wii, dancing, exercise, and support groups. To enjoy the surrounding communities, we frequently visit the YMCA, Humane Society, Milwaukee County Zoo, museums, parks, and libraries. The group at Curtis Center also enjoys nature-based activities such as fishing, bike riding, and hiking. There is something for everyone!
The volunteer opportunities in the community surrounding Curtis Center include Robyn's Nest, New Threads of Hope, and Urban Ecology. Working with these partners helps our program participants learn the skills that are needed to enhance employability and build social networks. Curtis Center also partners with Bryant and Stratton College's Occupational Therapy Assistant Program.
The program capacity at this location is 50 participants. If you would like to get involved with Adult Day Services of Southeast Wisconsin, LLC at Curtis Center, contact us and we can provide you with all of the information needed to sign up for our adult services. The phone number to reach us at is 414.727.4412, and you can send over an email to [email protected].